The Saint Michel paper mill, which manufactures corrugated paper made from 100% recycled fibers, markets its paper to cardboard mills located in western France and the Iberian Peninsula.
The old boiler in place, associated with a strong desire to reduce C02 emissions and to disengage from the use of fossil fuels, were the triggers for the installation of the new gas boiler.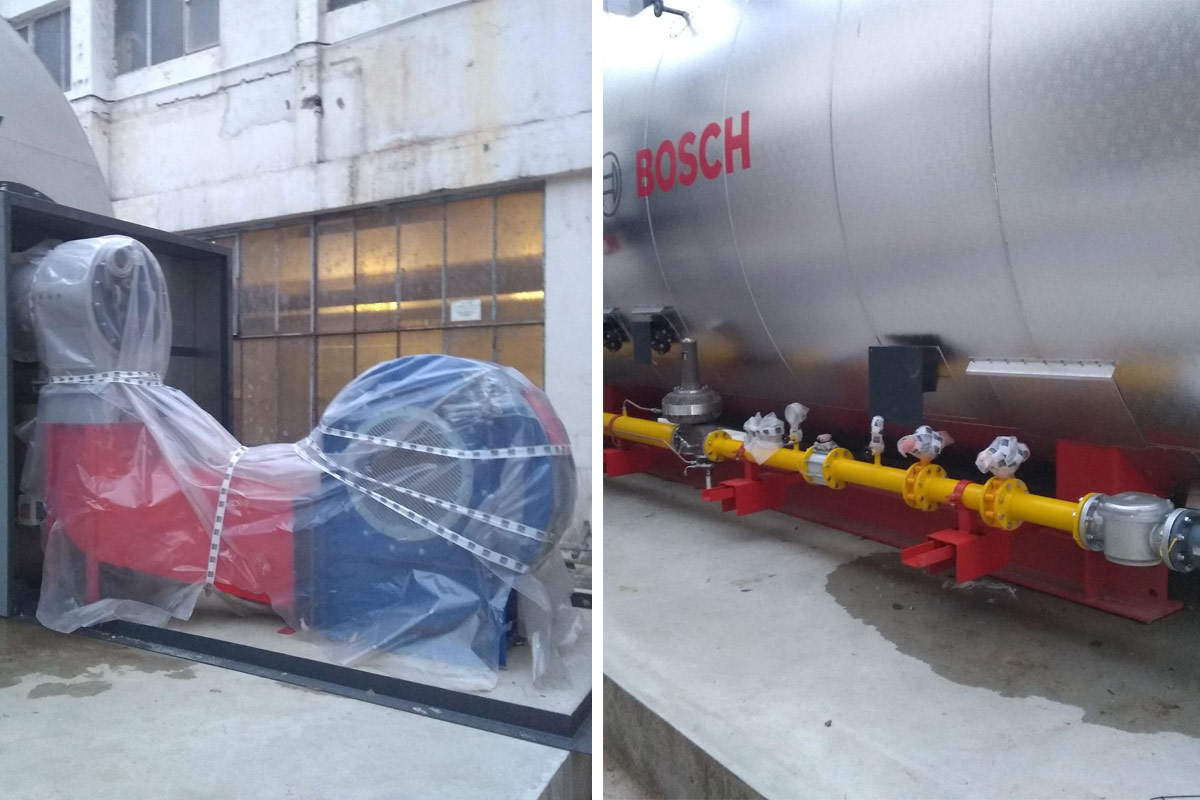 A gas boiler with an efficiency of 96% and emissions of less than 80mg of NOx
The Saint Michel paper mill was equipped with boilers producing the steam necessary for drying the paper... but the obsolescence of the boilers and especially the oversized production capacity of the paper mill required an evolution of the equipment.
Moreover, the objectives of the paper mill are clear and affirmed:

To deploy a cogeneration project based on solid recovered fuel (SRF)
Withdraw from the use of fossil fuels
Reduce CO2 emissions more effectively
The implementation of the future cogeneration from SRF implies precise technical needs. The presence of a back-up to ensure the continuity of steam production during scheduled maintenance shutdowns of the incinerator becomes essential and, furthermore, indispensable to compensate for possible malfunctions.
In order to avoid a production stoppage due to the upcoming ten-year test and to quickly reach the objectives set by the management teams, the Saint Michel paper mill decided to invest in a 28T/h outdoor steam boiler.
The outdoor choice!
The Saint Michel paper mill chose an outdoor boiler for several reasons...
First of all, the existing installation area was cramped. The possibility of dismantling the old boiler to install the new one was inconceivable. Finally, creating a completely new building would have increased the budget considerably. With the outdoor boiler, the feasibility-cost equation was solved!

The mill can now be equipped with a highly efficient boiler with an efficiency of 96% and emissions of < 80 mg NOx. The power of the boiler is 28 T/H maximum and the pressure is 8 bars. The boiler and the deaerator are installed outdoors and the bungalows house the control, command, burners and pumps.

Moreover, the expertise and experience of LCI Group on similar projects reinforced the decision of the Saint Michel paper mill to launch this project


Why did you choose LCI Group?
Trust was established from the beginning of the project. From the analysis proposed at the time of the call for proposals, to the technical innovations, to the guarantees of rejection and performance... without omitting the reactivity and the presence of the LCI group teams. The Saint Michel paper mill appreciated this collaboration throughout the project.